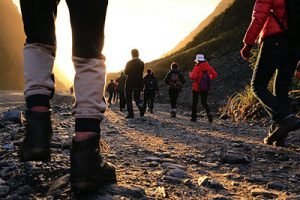 Jesus said to Nicodemus "you must be born again to be able to come to the kingdom of God" and to Peter "when you are converted, strengthen your brethren"  ( Luke 22:32)
If we want to be in the kingdom of God we must be born again spiritually and become a new creature in Christ, but we will still retain our sinful nature. However, the promise we have is that Jesus will deliver us from its control. God has given every believer a Holy Spirit that helps them in every battle with sin. He has also supplied to every Christian instructions on how to win the victory over the sinful nature.
I believe that a complete surrender to God's will is the most important decision in Christian life.
"If any man will come after me, let him deny himself and take up his cross daily and follow me" (Luke 9:23-24)
That commitment pertains not only to select issues, but to the whole life and further more it says:
"Whosoever will save his life shall lose it, but whosoever shall lose his life for my sake, the same shall save it." (Luke 9:23-24)
Thinking about those two verses, is there a reason to live my life miserable and feel sorry for myself because I have to "deny myself" of things I love to do but cannot do? No, it is the opposite.
It is much deeper than what we think.
If God loved us so much that He suffered and gave His life for us, how can we think that our self denial is too great? He became a servant even unto death although He had the power to destroy and remove the devil and all evil, but He loved us so much that he denied himself in everything to save us.
Jesus also tells us what a believer's saved life must entail:
"Verily verily I say unto you, except the corn of wheat falls into the ground and dies, it abideth alone, but if it dies it brings forth much fruit. He that loveth his life shall lose it, and he that hateth his life shall in this world keep it unto the life eternal". (John 12,24- 25)

The Apostle Paul wrote "I die daily" (1. Cor 15, 21) and " If we be dead with him, we shall also live with him" (2.Tim 2:11)

Col 3:3 declares "For ye are dead and your life is hid with Christ in God"
So what does he mean? If Christ lives in us, then I am not doing what I want, but I am seeking what Christ will do in my life. The explanation is in Gal 2:20.

"I am crucified with Christ, nevertheless, I live, yet not I but Christ liveth in me and the life which I now live in the flesh I live by faith of the Son of God who loved me and gave Himself for me."
After listing some of his continual tribulations Paul writes:
"Always bearing about in the body the dying of the Lord Jesus that the life also of Jesus might be made manifest in our body. For we which live are always delivered unto death for Jesus sake that the life also of Jesus might be made manifest in our mortal flesh" (2.Cor 4: 10-11)
The "death" is the death of one's self will and the "life" is one that is completely given over to God's will. This means total surrender of self. The beloved chapter of 1. Cor 13 provides it all. The scripture exhorts us to be always others directed. This is Biblical selflessness.
It boggles my mind when I hear and listen how insidious and unbiblical doctrines of self love and self esteem have been so widely preached and promoted within Christendom. Were it not for Scripture prophesying that this will take place in the last days, the invasion of the psychology in the church through so called Christian psychology would seem incredible. Are we not living in the last days now?
Jesus showed us in his own life perfect selflessness.
"Even as the son of man came not to be ministered unto but to minister, and to give his life as ransom for many" (Mat 20:28)
and again,
"This is my commandment that ye love one another as I loved you" (John 5:15)
And He did this all the way, even unto the cross. May the prayer in Hebrews be our continual cry to the Lord and our encouragement in order to win the battle over self
"Now the God of peace, that brought again from the dead our Lord Jesus, the great shepherd of the sheep, through the blood of the everlasting covenant, make you perfect in every good work to do His will, working in you that which is well pleasing in his sight, through Jesus Christ, to whom be glory for ever and ever. Amen. (Heb 13: 20-21)
By Wenzel Goubej
Latest posts by Wenzel Goubej
(see all)