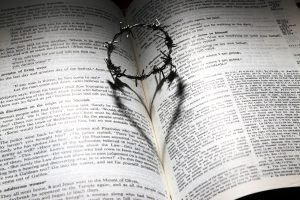 I heard the testimony of a pastor's wife, a few days ago, that made me both chuckle and think seriously about myself.  She was giving a talk called "Living with the Thorns"; about rejoicing in trials … and she had some serious trials.  I'd like to share her testimony as well as the lessons she was learning while living with her thorns, along with what I learned as she spoke.
When life seemed too difficult to bear she found herself complaining or bemoaning her lot in life.  This is when her 15-year-old son came over to her, put his arm around her and said, softly, "Mom, remember: you deserve hell!"
How often we forget that hell is all we deserve.  If it weren't for the goodness, kindness, mercy, and love of our God, that is all any of us would get.  Anything good that we have is not ours because we deserve it, but is ours only because God is so good. His unfathomable love for us means that He can only do good to us, and even when He allows trials and difficulties into our lives they are evidences of His desire for our eternal good, even over our present comfort.  Remember what Job said:
"Should we accept only good things from the hand of God and never anything bad?" Job 2:10 (NLT)
Every thorn has a point (pun intended), and God never wastes those points, nor the pain they cause us.  His purpose is for our perfection; our correction and balancing, because He knows that on our own we are very warped and out of balance.  We don't like to admit it, perhaps, but the truth remains, and as Paul says:
We know that all things work together for the good of those who love God—those whom He has called according to His plan.  Romans 8:28 (GW)
Thorns are for safety. So many dangers are averted for plants with thorns, and the thorns we live with are to keep us out of danger, as well, if we will allow them to.  It might be a trail to have a person in our lives who is difficult to deal with, but when we learn to love them it will be so much easier to love other difficult ones. If we didn't have that thorn we would be in danger of believing we deserve to have people around us who see life from our perspective and could look down on anyone who doesn't, depriving us of the balance of different perspectives. Again remember Paul:
So to keep me from becoming proud, I was given a thorn in my flesh, a messenger from Satan to torment me and keep me from becoming proud. Three different times I begged the Lord to take it away. Each time he said, "My grace is all you need. My power works best in weakness." 2 Cor 12:7-9 (NLT)
Thorns are for our growth. How are we to wake from our Laodicean state without them? It would be nice if we would, but, seriously … so far, we haven't, have we? Did you ever try to herd cattle? A little prod here and there keeps them going in the right direction. I used to feel sorry for them, but then I tried to get them to go, myself, and found that a prod was the easiest way.  We love to stay asleep – dozing contentedly, rather than being awake and communicating with the One Who loves us and wants to work in, and through us.  A thorn can prod us awake. About thorns, Jesus said:
When that happens, be happy! Yes, leap for joy! For a great reward awaits you in heaven. …
What sorrow awaits you who are rich, for you have your only happiness now. What sorrow awaits you who are fat and prosperous now, for a time of awful hunger awaits you. What sorrow awaits you who laugh now, for your laughing will turn to mourning and sorrow. What sorrow awaits you who are praised by the crowds, for their ancestors also praised false prophets. But to you who are willing to listen, I say, love your enemies! Do good to those who hate you. Bless those who curse you. Pray for those who hurt you. If someone slaps you on one cheek, offer the other cheek also. If someone demands your coat, offer your shirt also. Give to anyone who asks; and when things are taken away from you, don't try to get them back. Do to others as you would like them to do to you. … "Love your enemies! Do good to them. Lend to them without expecting to be repaid. Then your reward from heaven will be very great, and you will truly be acting as children of the Most High, for He is kind to those who are unthankful and wicked. You must be compassionate, just as your Father is compassionate.  Luke 6:23-36 (NLT)
I don't know about you, but that scripture shows me that I have a lot of growing to do, and I know for certain that I can't make myself grow. However, I can ask my Father in heaven to complete the work in me that He has begun, according to His promise, and He will do it. All I need to do is let Him accomplish it, and rejoice that He is … even when thorns are His method.
I'm Praying for you!
By Erna McCann
Latest posts by Erna McCann
(see all)