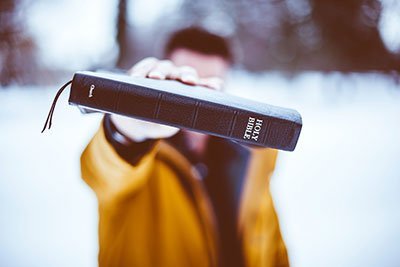 The greatest act of righteousness was the death of Jesus on the cross.  There was more love in that one act than you can find anywhere else in the whole Bible.  Remember that love is the fulfilling of the law. The sufferings of Christ on Calvary were the greatest act of obedience you can possibly find.  When you put those sufferings together with the sacrifice of His life, you get a totally different concept of righteousness.  Righteousness is not merely trying to avoid telling lies about somebody or trying not to covet what other people have.  That is a juvenile understanding of righteousness.
In the death of Jesus, we see the ultimate example of righteousness. We say we are willing to bear much for the Lord, but many baulk at the idea of suffering physical pain or humiliation.  Many stand around in their pride and say, 'My, I am so thankful I am not like other people.' And they call that righteousness. How different was Jesus' demonstration of righteousness.
Somehow, we must go back and see how wrong the disciples were when they said, 'We are able.'  Jesus told them they did not know what they were saying.  They did not know what they were asking for and what was going to happen to them.  They were not able.  How little they knew of their own hearts.
The most obvious and glaring case was that of Peter… 'And Jesus saith unto them, All ye shall be offended because of me this night: for it is written, I will smite the shepherd, and the sheep shall be scattered. But after that I am risen, I will go before you into Galilee. But Peter said unto him, Although all shall be offended, yet will not I. And Jesus saith unto him, Verily I say unto thee, That this day, even in this night, before the cock crow twice, thou shalt deny me thrice. But he spake the more vehemently, If I should die with thee, I will not deny thee in any wise. Likewise also said they all.'  Mark 14:27-31 (KJV)
How could Peter say this so strongly? How could he dispute with the God of Heaven? Peter, like many of us, would defend himself whenever anyone talked about his deficiencies.  We automatically defend our own righteousness.
When Peter said he would follow his Lord to prison and to death, he meant it, every word of it; but he did not know himself. Hidden in his heart were elements of evil that circumstances would fan into life.
Unless he was made conscious of his danger, these would prove his eternal ruin. The Saviour saw in him a self-love and assurance that would overbear even his love for Christ.
'Much of infirmity, of unmortified sin, carelessness of spirit, unsanctified temper, heedlessness in entering into temptation, had been revealed in his experience. Christ's solemn warning was a call to heart searching. Peter needed to distrust himself, and to have a deeper faith in Christ.' DA 673 What was his response? … 'Peter felt that he was distrusted, and he thought it cruel. He was already offended, and he became more persistent in his self-confidence.' DA 673.3
He became more self-confident than he was before, and he was already too self-confident.  Now he becomes more extreme than ever.  Peter was like that; and sometimes the best help the Lord gives us only exaggerates our weak points. You can see it in others, but you cannot see it in yourself.  The best help He gives us sometimes entrenches us as we seek to defend ourselves, our pride of opinion, our justification of self and all our acts.
The Bible has many examples of people who did not know themselves.  The Lord, in His divine grace, tries not to expose our hypocrisy to other people, but rather tries to reveal to our innermost soul the corruption that is there and the changes He would like to make on our behalf.  The question is:  Will we let Him?  We have such pride… And some of us will never learn, not because the Lord does not try, not because He does not love us, not because He has not tried repeatedly, for He never gives up.  It is just that we will not let self be exposed.  And we take it as extreme criticism when people begin to discuss with us very kindly about what's inside us that protrudes to the outside for everyone around us to see.  We never seem to outgrow this.  One of the marks of a healthy Christian is an honesty with self, when we take every negative statement about self and carefully meditate upon it, pondering if what people say is really the truth.  A well-adjusted Christian does not get hung-up because there is something wrong on the inside.  They expect to find something wrong on the inside.
Watch how in Sabbath School classes or during Bible studies people will try to prove the other fellow wrong.  We want to advertise that we are right and that we have a greater Bible knowledge than anybody else in the class.  Adventists love to do this.  We do it with non-Adventists and then wonder why they don't like us and come to our churches.  But I showed them the truth!  Yes, but how did you show them?  By every time proving they were wrong.  And then we think we love our brother as Jesus loved us.
Somehow we feel safe when we can always prove we are right. We must be careful about being right and calling that righteousness. We must be careful about adopting any attitude that would make us first in the kingdom.  That is not the way.  The first in the kingdom are those who serve.  They are the meek and lowly ones.
The greatest truth we have to discover is the truth about self.
"… There is nothing in your life so horrible that it is going to cause you to be lost if you let Him take care of it."  Christ our Righteousness, J. W. Lehman pg 116-119
Truly, it is only as we understand the length of chain that has been let down for us, ourselves, that we can understand the immense love of God for us, personally.
May you experience that immeasurable love, today.
I'm praying for you,
Erna
Latest posts by Erna McCann