No one is immune to sin. The Bible says, "For all have sinned, and come short of the glory of God." Romans 3:23. From the most impoverish home in society to the courts of kings, this verse rings true. The most celebrated king in history was no exception. Though king David was a man after God's own heart and greatly favored, he too succumbed to Satan's temptations. From that day forward, David's family was plagued with turmoil. His son Absalom stole the hearts of the people and attempted to usurp the throne.
In humility David left the gates of Jerusalem. He did not utter one complaint. Barefoot, humble, unselfishly he resigned himself, weeping and sorrowful as he went. Along the way, while he was in despair, Shimei came out casting stones and cursing. Inspired by the spirit of the devil, Shimei cursed king David in his humiliation. Oh, how the Satan revels in tempting us at our weakest moments, but David does not fall to temptation. He displays what is in his heart, and he says "…Let him alone, and let him curse; for the Lord hath bidden him. It may be that the Lord will look on mine affliction, and that the Lord will repay me with good for his cursing this day." 2 Samuel 16:11-12. David shows that he has repented of his sins and that he has been born again.
"…The Lord did not forsake David. This chapter in his experience, when under cruelest wrong and insult, he shows himself to be humble, unselfish, generous, and submissive, is one of the noblest in his whole experience. Never was the ruler of Israel more truly great in the sight of heaven than at this hour of his deepest outward humiliation." Ellen G. White – Patriarchs and Prophets page 738.
Dear friends, we must take hold of the throne of grace. We too can be transformed if we humble ourselves before God. The Lord is gracious, even if we fall "…We have an Advocate with the Father, Jesus Christ the righteous." 1 John 2:1. When we repent of our ways, the Lord says, "Nevertheless My lovingkindness I will not utterly take from him, nor allow My faithfulness to fail." Psalm 89:33. Let us not despair if we have fallen, cling to this promise and let the Lord transform us like He transformed king David.
May God continue to encourage and strengthen you.
Solange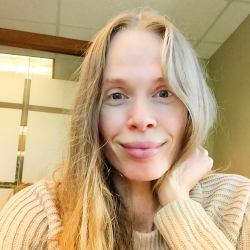 Latest posts by Solange Lansiquot
(see all)