Alas, and did my Savior bleed
And did my Sovereign die?
Would He devote that sacred head
For such a worm as I
This month let us take a moment to reflect upon the theme of the cross. A dear friend of ours wrote these heart stirring statements, that we thought fitting to share with you.
"The Cross is my hope, strength, and salvation. The most loving, innocent, perfect sacrifice was made for a wretch like me.  I now understand the song Amazing Grace now after blindly singing the words for years.
When I am tempted to sin, I think of the Cross. I think of the verse in Hebrews 6:6, that I would be crucifying Christ afresh if I were to indulge self and I cannot think of it anymore.
When I am prone to anger, I think of the Cross. I think of the patience that Christ has borne for me.
When I think of taking revenge for a wrong done to me, I think of the Cross.  I think of the innocent blood spilled for my crimes. I hear the word of God ringing in my year "vengeance is mine saith the Lord" Romans 12:19. I would not be so arrogant as to take one second of His vengeance away from Him.
When I think of Christ pleading on the Cross "forgive them Father, for they know not what they do" Luke 23:34, it is impossible for me to hold a grudge.  How powerful and healing is the Cross!
What a God we serve!"
We echo these sentiments and pray that you will meditate on the last scenes of our Savior's life. For in them there is healing.
God bless,
Solange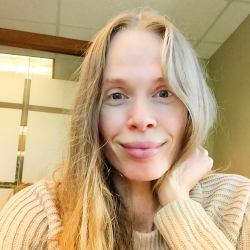 Latest posts by Solange Lansiquot
(see all)